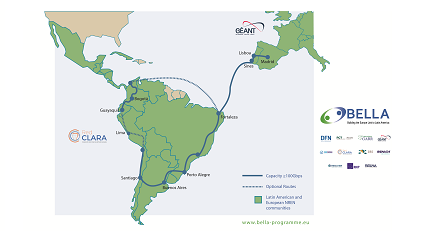 GÉANT, Europe's leading collaboration on e-infrastructure and services for research and education, and RedCLARA, the Latin American Research and Education Network, today announced the signing of an Indefeasible Right of Use (IRU) contract with EllaLink, for spectrum on a direct submarine cable connecting Europe and Latin America.
Procured on behalf of the BELLA Consortium, the BELLA IRU will provide for the transatlantic data-sharing and collaboration needs of the European and Latin American research and education communities for the next quarter of a century, in areas such as astronomy, particle physics, and earth observation. With funding from the European Union (EU) and the Latin American NREN community, the IRU represents a key financial element in the building of the EllaLink cable, which is expected to be operational in late 2020. 
GÉANT and RedCLARA were first interconnected in 2003 under the EU-funded ALICE project to support scientific and academic collaboration between the two continents. Since then connections speeds have grown by over 1,600% from 622 Megabits per second (Mbps) to the current 10 Gigabits per second (Gbps). However, there is no direct submarine cable capable of supporting research and education data needs between Europe and Latin America, limiting capacity and cost-effectiveness.
With spectrum on the EllaLink cable however, research and education traffic will flow directly between the two continents, not only reducing latency by up to 60% and improving data protection, but also providing cost-effective and – importantly – scalable connectivity at significantly higher speeds than have previously been possible.
The need to scale connectivity was highlighted recently by exciting discoveries in the area of astronomy – an important part of the Latin American research community – such as the merger of two neutron stars (known as a 'Kilonova') and the detection of 'Oumuamua', the most elongated asteroid known to science, that required collaboration involving infrastructure and scientists in Europe and Latin America.
Such collaborations between the two continents are set to expand significantly in the coming years, and with programmes such as Copernicus – the EU's earth observation programme – the importance of the BELLA connectivity will only increase. 
Erik Huizer, GÉANT CEO said, "I am delighted to see the culmination of work with our BELLA Consortium colleagues leading to the signature of the BELLA contract with EllaLink. Obtaining spectrum on an intercontinental submarine cable, which we can deploy and upgrade with our Latin American partners in line with research and education connectivity requirements, is a completely new model for our international connections, and will provide us with the flexibility and cost efficiencies we need to meet our users' needs. It will be exciting to watch the deployment of a submarine cable at close hand and we look forward to seeing bits between GÉANT and RedCLARA being exchanged for the first time on a physically direct path between the two continents in 2020."
Luis Eliécer Cadenas, Executive Director of RedCLARA, and co-chair of the BELLA Consortium, said, "This milestone is a key achievement for the Latin American research and education community. We are opening a direct collaboration channel with Europe, guaranteeing security and quality of service for the many scientific and educational applications that we expect to offer. RedCLARA is engaged in building the data communications infrastructure for research and education that will foster regional development. The BELLA subsea cable is a first stone in building this capacity."
Fernando Liello of the Italian NREN, GARR, co-chair of the BELLA Consortium and coordinator of the feasibility study that led to the BELLA programme, said: "This milestone is the first major step towards the completion of efforts of several years by a large group of people brought together by the vision of a closer and more efficient interaction between European and Latin American research communities. This link will strengthen the many historic, social and scientific research links that already exist between the European and Latin American communities. Notwithstanding its importance, this achievement is only the first step on the strategic path of the BELLA programme whose final objective is to overcome the digital divide between these two regions".
About BELLA
BELLA (Building the Europe Link with Latin America) provides for the long-term interconnectivity needs of European and Latin American research and education communities by procuring and deploying a long-term Indefeasible Right of Use (IRU) for spectrum on a direct submarine cable between the two regions, and deploying a 100Gbps-capable research and education network across Latin America.
BELLA is implemented by a Consortium of the Regional Research and Education Networks GÉANT (Europe) and RedCLARA (Latin America) and the National Research and Education Networks of Brazil, Chile, Colombia, Ecuador, France, Germany, Italy, Portugal and Spain. Funding for BELLA is provided by the European Commission (DG-CONNECT, DG-DEVCO and DG-GROWTH) and Latin America NRENs.
For more information, visit www.bella-programme.eu
About GÉANT
GÉANT is Europe's leading collaboration on network and related infrastructure and services for the benefit of research and education, contributing to Europe's economic growth and competitiveness. The organisation develops, delivers and promotes advanced network and associated e-infrastructure services, and supports innovation and knowledge-sharing amongst its members, partners and the wider research and education networking community. 
For more information, visit www.geant.org
About RedCLARA
RedCLARA is the Latin American Research and Education Network, regional leader and promotor of collaboration and development in education, science and innovation, by means of its e-infrastructure and services tailored for its community needs. RedCLARA provides regional interconnections and connections to the world through its international links and promotes the development of tools, services and research projects to empower regional scientific and educational development and the collaboration within Latin American R&E institutions and of Latin America and the rest of the world with an important focus on less developed regions.
For more information, please visit: www.redclara.net
About EllaLink
EllaLink is an advanced subsea cable system offering secure high capacity connectivity on a unique low latency transatlantic route, serving the growing needs of the Latin American and European markets. The state-of-the art system directly connects Brazil and Europe, linking the major hubs of São Paulo and Fortaleza with Lisbon and Madrid.
The EllaLink System is being built by Alcatel Submarine Networks with state-of-the-art coherent technology, initially offering 72Tbps of capacity over four fibre pairs. The landing sites in Praia Grande (Brazil), Fortaleza (Brazil) and Sines (Portugal) have been secured, and EllaLink is scheduled to be Ready for Service in 2020. To learn more visit www.ella.link or contact This email address is being protected from spambots. You need JavaScript enabled to view it.